About Brittni Paiva
Young ukulele player Brittni Paiva performing in Watsonville, California at a July 2006 benefit for Hawaiian music radio station KAPU. That week Brittni also conducted a workshop hosted by the Santa Cruz Ukulele Club.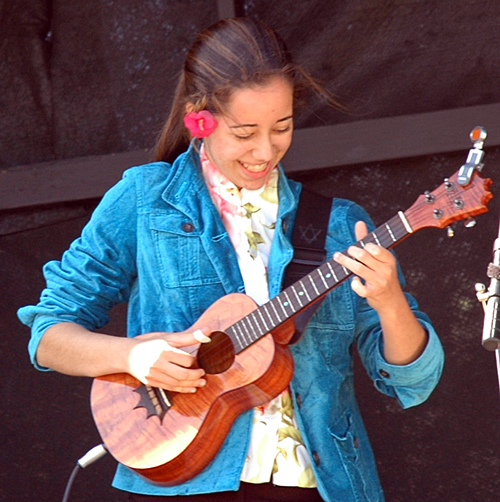 Copyright © Kathleen Walling Fry
---
Facts About Brittni Paiva
Birth Date: September 28, 1988
Home Town: Hilo, Big Island, Hawaii
2005 Most Promising Artist Hoku Award for "Brittni X3"

Articles Abotu Brittni Paiva
Official Brittni Paiva Bio
Recordings by Brittni Paiva
TITLE: Hear...
RELEASED: November 8, 2005 (per press release)



TITLE: Brittni X 3
2005 Na Hoku Hano Hano Award: Most Promising Artist
2005 Na Hoku Hano Hano Nomination: Best Instrumental
Awards and Achievements
2005: No Hoku Hanohano Award: Most Promising Artist
2005: No Hoku Hanohano Award: Best Instrumental Album
2005: Hawaii Music Award, 3rd Place: Best Ukulele Album
2004: Lehua Jaycees Ukulele Contest: 1st Place Winner
2004: Hamakua Music Festival: 1st Place Scholarship Winner
2002: Fearless Hawaiian Jumping Flea Competition: 1st Place



Official Web Site
BrittniPaiva.com


See also:
---

Related Links
Hawaiian Music Artists - Main Menu
About Hawaiian Music
Hawaii for Visitors

If you have corrections or updates to the any of the information on this page or if you have information or pictures to share about your favorite Hawaii singer or musician please send them to one of the addresses on our contacts page. Note that we can only publish official press photos or other photos for which we have received permission from the photographer. We respect the copyrights of photographers, performers, and writers.
---